Partner Thai Yoga Massage Workshop


February 14 (Friday) at 6:00 pm
Class Full - Waitlist Available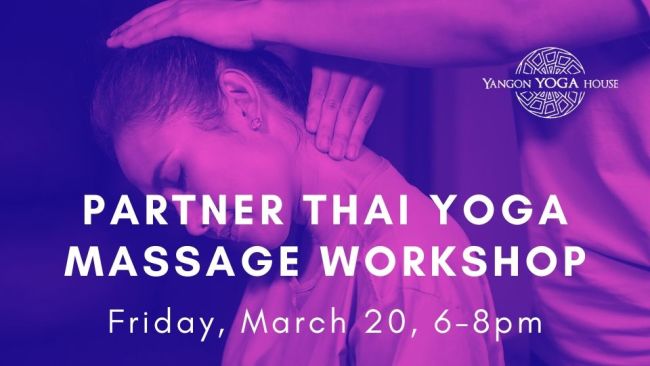 Partner Thai Massage Workshop guided by Anna Morozova
Friday, March 20th from 6 - 8PM
$22 drop-in or 2 class passes. Free for unlimited members. Please note that both you AND your partner/friend must sign up for the workshop individually.
Bring a friend, a fellow yogi or your partner for a fun and relaxing exploration into the basics of Thai Yoga Massage. In this partner-based workshop, you will be guided through a Thai Yoga Massage sequence and will have a chance to both give and to receive. Learn easy and effective hands-on tools to provide relief for the back, feet, shoulders and neck. Experience the power of touch to forge meaningful connections and healing intentions.
No experience necessary! All are welcome.
Bring a small pillow or cushion if you have one, and a towel or blanket if you have sensitive knees.
Wear light, comfortable clothing, preferably full-length pants and a long-sleeved shirt
Through the application of rhythmic pressure on certain points and energy lines in the body and yogic stretching of muscles and joint manipulation, we can release blockages and restore energy to its natural flow.
About Facilitator Anna Morozova:
Anna is a yoga teacher, Thai massage practitioner and Shamanic Reiki Master based in Yangon. Anna was first introduced to Thai Yoga massage in 2011 at a dance studio in NYC where it was offered as a recovery therapy and bodywork practice for dancers. In 2012 she completed her Level I and II Thai massage training in NYC. Since then, she has continued to pursue studies in this ancient healing art, completing courses in Advanced Thai Yoga Massage, Dynamic Thai Massage and Osteothai. She is a graduate of Sunshine Massage School in Chiang Mai. Anna believes that Thai Yoga Massage is always a call for connection and sharing, with love and respect.
Sorry - that class has already taken place!