Online Nia Jam and Fundraiser for The Black Women's Health Imperative


January 30 (Saturday) at 10:00 am
Location
Virtual - Online link is provided by instructor
Move2Center joins the Black Teachers of Nia to deliver sacred self-care through movement in support of The Black Women's Health Imperative. Please join us for a 90 minute Nia Jam on Saturday, January 30, at 10am PT/1pm ET featuring Nia teachers from around the country coming together to raise funds for this worthy and crucially needed organization.
Please note that reservations for this online class are being hosted by EventBrite.
About The Black Women's Health Imperative
Thirty-eight years ago, The Black Women's Health Imperative became the first nonprofit organization created by Black women to help protect and advance the health and wellness of Black women and girls. With a broadened structure of national and local affiliated organizations and a change in name to the Black Women's Health Imperative in 2002, the Imperative instituted aggressive national programs in health policy, education, research, knowledge and leadership development and communications to save and extend the lives of Black women. Presently, the organization continues to be dedicated to promoting physical, mental and spiritual health and well-being for the nation's 19.5 million African American women and girls. www.bwhi.org.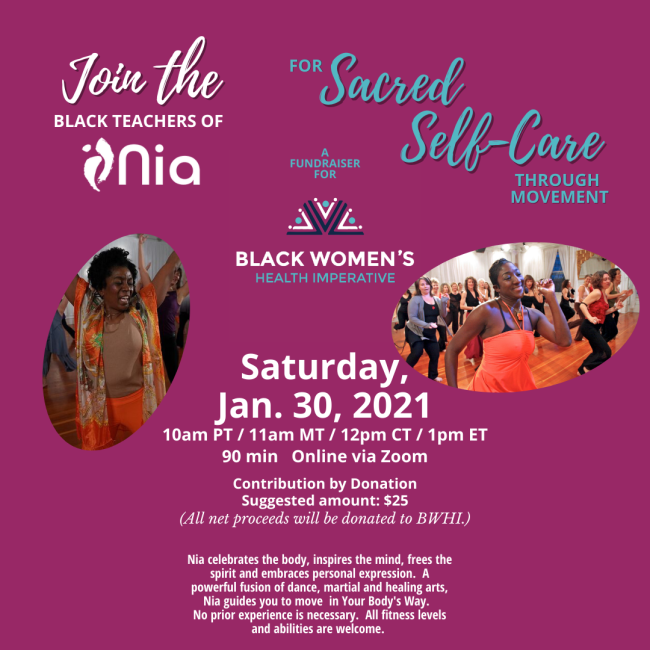 Add to calendar
01/30/2021 10:00
01/30/2021 12:00
America/Los_Angeles
Online Nia Jam and Fundraiser for The Black Women's Health Imperative - Move2Center Studio - Various -- Jam
Virtual - Online link is provided by instructor
<div style="text-align: center;"><strong>Move2Center</strong> joins the Black Teachers of Nia to deliver sacred self-care through movement in support of The Black Women's Health Imperative. Please join us for a 90 minute Nia Jam on Saturday, January 30, at 10am PT/1pm ET featuring Nia teachers from around the country coming together to raise funds for this worthy and crucially needed organization.</div><div style="text-align: center;"><br></div><div style="text-align: center;"><u><strong>Please note that reservations for this online class are being hosted by EventBrite.</strong></u></div><div style="text-align: center;"><a href="https://www.eventbrite.com/e/nia-jam-and-fundraiser-for-the-black-womens-health-imperative-tickets-133483957109" rel="noopener noreferrer" target="_blank"><u><strong>Click here to be redirected to that invitation.</strong></u></a></div><div style="text-align: center;"><br></div><div style="text-align: center;">Suggested donation: $25. &nbsp;<a href="https://www.eventbrite.com/e/nia-jam-and-fundraiser-for-the-black-womens-health-imperative-tickets-133483957109" rel="noopener noreferrer" target="_blank">Please purchase your entry and make your reservation by clicking here.&nbsp;</a></div><div style="text-align: center;"><br></div><div style="text-align: center;"><strong>&nbsp; &nbsp; &nbsp; &nbsp; &nbsp; &nbsp; &nbsp; &nbsp; &nbsp; &nbsp;About The Black Women's Health Imperative &nbsp; &nbsp; &nbsp; &nbsp; &nbsp; &nbsp; &nbsp; &nbsp; &nbsp; &nbsp; &nbsp; &nbsp; &nbsp;&nbsp;</strong></div><div>&nbsp; &nbsp;&nbsp;<div style="text-align: center;">Thirty-eight years ago, The Black Women's Health Imperative &nbsp;became the first nonprofit organization created by Black women to help protect and advance the health and wellness of Black women and girls. &nbsp;With a broadened structure of national and local affiliated organizations and a change in name to the Black Women's Health Imperative in 2002, the Imperative instituted aggressive national programs in health policy, education, research, knowledge and leadership development and communications to save and extend the lives of Black women. Presently, the organization continues to be dedicated to promoting physical, mental and spiritual health and well-being for the nation's 19.5 million African American women and girls. &nbsp;www.bwhi.org.</div><div style="text-align: center;"><br></div><div style="text-align: center;"><a href="https://www.eventbrite.com/e/nia-jam-and-fundraiser-for-the-black-womens-health-imperative-tickets-133483957109" rel="noopener noreferrer" target="_blank"><img src="https://res.cloudinary.com/punchpass/image/upload/v1610398279/client_emails/jslylyzcak3a8scxm8ov.png" class="fr-dib" width="650" height="650"></a></div></div><div style="text-align: center;"><br></div>
Move2Center Studio
false
MM/DD/YYYY
1440