Joy-Full Holiday Open House!


December 7 (Tuesday) at 2:00 pm
Location
Move2Center Studio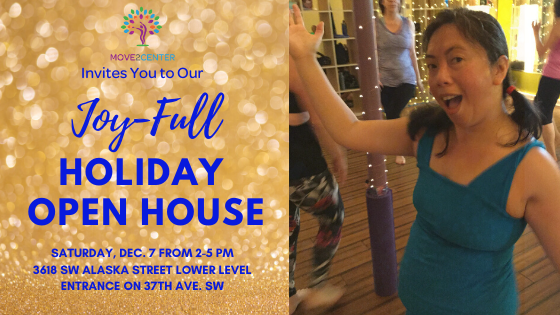 Want to get moving during your holiday season?
Join Move2Center for our Joy-Full Holiday Open House
on Saturday, December 7 from 2pm until 5 p.m.!
Move2Center's Juliann, Alyssa, Melanie and Ann are excited to host Nia lovers and curious dancers for our first ever holiday open house!

If you're a current member come on in and bring a friend! If you've ever walked on by and wondered what Move2Center is all about, this is a terrific opportunity to drop in, check us out!
(C'mon, we've seen you peeking -- we know a few of you are curious...)

Regardless of whether you're new or already part of our incredible community, everyone who swings by the open house will be able to take advantage of special (VERY special) discounted prices on class passes. This is a terrific opportunity to purchase gift certificates for friends and family, or grab some deals for yourself.
Sorry - that class has already taken place!