Day Retreat - Beat the Blues


November 23 (Saturday) at 10:30 am
CANCELLED
Class length
5 hours 30 minutes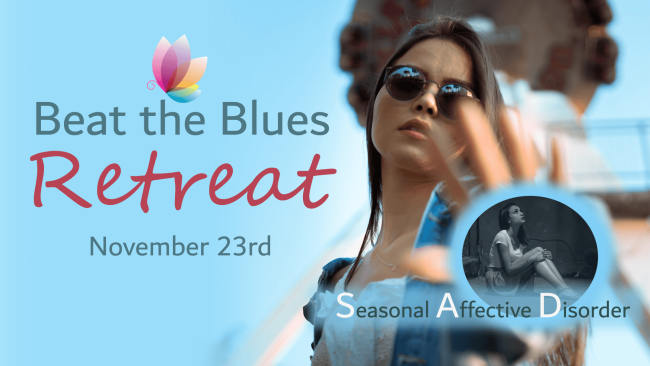 Have you, in the past, been physically and emotionally drained, challenged or even to the point of feeling burnt out during the winter months?
You may be one of the many who suffer from Seasonal Affective Dissorder needlessly!
Lisa Rockliffe,
owner of Rise Integrated Wellness
, and I have teamed up together to offer you the right strategies to actively diminish the seasonal blues. We have created a day retreat that will empower you to be able to experience a winter season full of energy, vitality and perhaps a renewed love for the winter wonderland that we live in.
You deserve to take care of yourself and prepare well to live the winter season the the fullest!
Let us show you how to have energy, vitality and joy through proper nutrition, mind-set and mind-body connection exercises.
The day will be filled with interactive sessions for healthy eating and food preparation, easy body movements*, yoga, meditation, journaling and truly enlightening conversations.
*Come dressed for a lovely, brief walk in the fresh, country air!
Saturday November 23rd
10:30am to 4:00pm
Non-member price:
Early Bird price until October 31st $149.00 plus HST
Price as of November 1st $179.00 plus HST
Member price $149.00 plus HST
Registration until October 31st will automatically cost you the above price.
After October 31st MEMBERS will need to use the following rebate code: BLUES2019
You must have a valid month membership or a current 10/20 pass for the member's discount.
Use the following code, when you purchase the pass, to get the rebate as of November 1st.
The price includes lunch, snacks and beverages as well as a take home self-care kit and the snack that you will prepare ( unless you eat it right there and then!)
Maximum 10 participants
Cancellation policy:
No refunds will be processed for cancellations.
A credit can be placed on your account with Cumberland Yoga & Mobility Studio to be used within 6 months. A $25.00 administrative fee will be applied to any application for a credit.
You can transfer your reservation to someone else if you wish to do so, at no cost.
Questions?
Call me at 613-816-7549
Let's turn Seasonal Affective Dissorder into Strategies to Actively Diminish the blues
Add to calendar
11/23/2019 10:30
11/23/2019 16:00
Day Retreat - Beat the Blues - Jackie Leduc Wellness - Jackie & Lisa
outdoor/indoor
<div><img src="https://res.cloudinary.com/punchpass/image/upload/v1570384836/client_emails/q6xcictf91ybs123dk0r.png" class="fr-fil fr-dib" width="464" style="width: 464px; height: 261.268px;" height="261.268"></div><div><br></div><div>Have you, in the past, &nbsp;been physically and emotionally drained, challenged or even to the point of feeling burnt out during the winter months?</div><div><br></div><div>You may be one of the many who suffer from <strong>S</strong>easonal <strong>A</strong>ffective<strong>&nbsp;D</strong>issorder <u><strong>needlessly!</strong></u></div><div><br></div><div>Lisa Rockliffe, <a href="https://riseintegratedwellness.com/about-us" rel="noopener noreferrer" target="_blank">owner of Rise Integrated Wellness</a>, and I have teamed up together to offer you the right strategies to actively diminish the seasonal blues. We have created a day retreat that will empower you to be able to experience a winter season full of energy, vitality and perhaps a renewed love for the winter wonderland that we live in.</div><div><br></div><div>You deserve to take care of yourself and prepare well to live the winter season the the fullest!</div><div><br></div><div>Let us show you how to have energy, vitality and joy through proper nutrition, mind-set and mind-body connection exercises.</div><div><br></div><div>The day will be filled with interactive sessions for healthy eating and food preparation, easy body movements*, yoga, meditation, journaling and truly enlightening conversations.</div><div><br></div><div>*Come dressed for a lovely, brief walk in the fresh, country air!</div><div><br></div><div><br></div><div><strong>Saturday November 23rd</strong></div><div>10:30am to 4:00pm</div><div><br></div><div><u><strong>Non-member price:</strong></u></div><div>Early Bird price until October 31st &nbsp; &nbsp; $149.00 plus HST</div><div>Price as of November 1st &nbsp; &nbsp; &nbsp; &nbsp; &nbsp; &nbsp; &nbsp; &nbsp; &nbsp; &nbsp; &nbsp; &nbsp; &nbsp;$179.00 plus HST</div><div><br></div><div><u><strong>Member price &nbsp;</strong></u><strong>&nbsp;</strong> &nbsp; &nbsp; &nbsp; &nbsp; &nbsp; &nbsp; &nbsp; &nbsp; &nbsp; &nbsp; &nbsp; &nbsp; &nbsp; &nbsp; &nbsp; &nbsp; &nbsp; &nbsp; &nbsp; &nbsp; &nbsp; &nbsp; &nbsp; $149.00 plus HST</div><div>Registration until October 31st will automatically cost you the above price.&nbsp;</div><div><br></div><div>After October 31st MEMBERS will need to use the following rebate code: <strong>BLUES2019</strong></div><div>You must have a valid month membership or a current 10/20 pass for the member's discount.</div><div>Use the following code, when you purchase the pass, to get the rebate as of November 1st.</div><div><br></div><div>The price includes lunch, snacks and beverages as well as a take home self-care kit and the snack that you will prepare ( unless you eat it right there and then!)</div><div><br></div><div><strong><em>Maximum 10 participants</em></strong></div><div><br></div><div><strong>Cancellation policy:</strong></div><ul><li>No refunds will be processed for cancellations.&nbsp;</li><li>A credit can be placed on your account with Cumberland Yoga &amp; Mobility Studio to be used within 6 &nbsp;months. &nbsp;A $25.00 administrative fee will be applied to any application for a credit.</li><li>You can transfer your reservation to someone else if you wish to do so, at no cost.</li></ul><div><br></div><div>Questions?</div><div>Call me at 613-816-7549</div><div><br></div><div>Let's turn <strong>S</strong>easonal <strong>A</strong>ffective <strong>D</strong>issorder into <strong>Strategies to Actively Diminish the blues</strong></div><div><br></div><div><a href="https://jackieleduc.ca/about-jackie/" rel="noopener noreferrer" target="_blank">Jackie</a><br><br></div>
Jackie Leduc Wellness
false
MM/DD/YYYY
1440