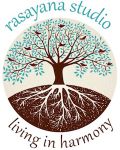 Rasayana Studio Class Reservation
For PRICING and to PURCHASE A PASS, Click on tab above 'Purchase A Pass Online'. 
*First visit to Rasayana Studio? Please arrive a few minutes early to complete any necessary paperwork and orient yourself. 
*PARKING - parking can be limited in Ft Langley - please allow extra time to park. We offer some underground parking or street parking or Marina Park on the river (access off Church St).
---
Return To Class Schedule
Standing on Solid Ground
----------------------------------------------------------------------
8 week session - Sunday evenings 7pm - 8:30pm
----------------------------------------------------------------------
"If you are resisting something, you are feeding it. Any energy you fight, you are feeding. If you push something away, you are inviting it to stay". ~ Micheal Singer

A Community of Support and Growth
Periodically life gives us a shove of one kind or another that knocks us off balance. Sometimes it's slight, sometimes it's significant, and once in a while, the rug gets yanked from underneath us.  In this state of "off balance" our minds race to find strategies on how to get things back to normal. It's often an easy fix, and we find our feet without much effort.  Occasionally though, we face larger problems or an accumulation of smaller ones that finally become big enough to hurt, and we move to a state where we find no peace-of-mind.
We may blame: the situation, another person, a place, or a thing for our problem but invariably we alone can regain our footing, no one can do it for us.
In his book, The Untethered Soul author Micheal Singer calls these voices (thoughts) "the consultants". Everyone has them and if you think you don't have them, the very voice that said that, is one of them.  We will use Micheal's book as our primary guide, and we will also Awaken Our Creative Spirit as a means to tap into that deeper part of us.
Consider these questions.
- Is there a way to handle my "busy" mind?
- Are there conversations going on in my head that I'd like to stop or at least manage effectively?
- Does silence takes me to a negative place, and can I practice new ways of thinking?
- Are there strategies that work for dealing with my anxiety, or any emotional issues that arise?
- Is it helpful to take time and reflect on how I am addressing my mental, spiritual, physical and emotional needs, and how they affect me?
- Can I find real peace with any event that happens in my life?
The answer to all these questions is a resounding YES, and it is a practice.
This group is about finding your true "self", in the context of a soul-supporting community of acceptance and love. A safe place of support, respect and nurture.  You will learn practical strategies that ground you, in a community-based practice with like-minded souls willing to explore the blossoming of their hearts.
We will teach each other and remember how to stand on solid ground.
8 weeks beginning October 15  7pm - 8:30pm. 
Early bird price before October 5 is $199 plus GST $208.95. 
Full price $225 plus GST is $236.25. Your book is included in the registration fee.
Total # of Classes: 0
Classes Begin: Oct 15, 2017
Classes End: Dec 03, 2017
---
This class series has already started. Please contact us directly to register.
---
Online class reservations and pass tracking by Punchpass