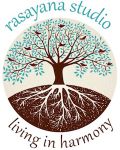 Rasayana Studio Class Reservation
For PRICING and to PURCHASE A PASS, Click on tab above 'Purchase A Pass Online'. 
*First visit to Rasayana Studio? Please arrive a few minutes early to complete any necessary paperwork and orient yourself. 
*PARKING - parking can be limited in Ft Langley - please allow extra time to park. We offer some underground parking or street parking or Marina Park on the river (access off Church St).
---
Return To Class Schedule
Basic Pranic Healing with Pauline Sainsbury
Vancouver Pranic Healing offers Basic Pranic Healing weekend Workshop ------------------------------------------ Sat, Oct 14th & Sun, Oct 15th 9am - 5pm ------------------------------------------ Learn the basics of working with your energy aura, including learning to "scan," or feel the energy, to "sweep," or clean away congested energy, and to "energize," or supplement areas in your aura that have a pranic deficiency. You begin by learning to activate the energy centers, or "chakras," in the center of your hands. This enables you to become sensitive to prana and scan a person's – or your own – energy field to identify blockages and then cleanse, energize and revitalize the area with new prana. Prerequisite: None Fee: $350 | Textbook: $45 | Repeat Students: $100 Register with Pauline Sainsbury at 604.724.2114 or healingwithprana@gmail.com
Total # of Classes: 2
Classes Begin: Oct 14, 2017
Classes End: Oct 15, 2017
Saturday - October 14 at 9:00am
Sunday - October 15 at 9:00am

---
This class series has already started. Please contact us directly to register.
---
Online class reservations and pass tracking by Punchpass