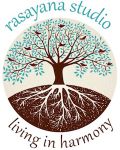 Rasayana Studio Class Reservation
For PRICING and to PURCHASE A PASS, Click on tab above 'Purchase A Pass Online'. 
*First visit to Rasayana Studio? Please arrive a few minutes early to complete any necessary paperwork and orient yourself. 
*PARKING - parking can be limited in Ft Langley - please allow extra time to park. We offer some underground parking or street parking or Marina Park on the river (access off Church St).
---
Return To Class Schedule
Workshop - Learn to teach Chair Yoga
Stacey Buss
9:00am - November 4 (Saturday)
Class length: 3 hours

---
Learn to Teach Chair Yoga:
--------------------------------------------------
Sat, Feb 17/18 @ 10:30am - 1:30pm
--------------------------------------------------
Chair yoga is not just for seniors - it's for everyone! It is perfect for individuals with balance or stability concerns, breathing and/or blood pressure issuses, vertigo or other similiar medical conditions requiring minimal (or no) inversions. Also good for individuals who work on their feet but still want the benefits of yoga. There is no age limit.
This style of yoga offers all the benefits of mat yoga, and like mat yoga activates all parts of the body, improving circulation, flexibility, stability, ROM and mobility. It also stimulates the brain!
Our focus will be on adapting familiar yoga poses such as Mountain, Warrior II, Downward Facing Dog and the Sun Salutation from the mat and onto a chair. Learn how to create your own chair yoga class that:
- Is a fabulous non-impact activity
- Is attainable, stable and safe
- Improves balance and building flexibility
- Increases strength
- Offers alternatives, options, modifications
**Continuing Education Credits: 3 BCRPA or CFES credits, 3 YA credits, 3 hr credit to GYS 200hr YTT.
Sorry - that class has already taken place!
---
Online class reservations and pass tracking by Punchpass