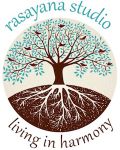 Rasayana Studio Class Reservation
For PRICING and to PURCHASE A PASS, Click on tab above 'Purchase A Pass Online'. 
*First visit to Rasayana Studio? Please arrive a few minutes early to complete any necessary paperwork and orient yourself. 
*PARKING - parking can be limited in Ft Langley - please allow extra time to park. We offer some underground parking or street parking or Marina Park on the river (access off Church St).
---
Return To Class Schedule
Fall Speaker Series - Ayurvedic Spices & Aromanutrition
Glynnis Osher
7:00pm - November 10 (Friday)
Class length: 1 hour 30 minutes

---
SPICE SHAKTI - Empowering your kitchen with the YOGA of Ayurvedic spices With 'Spice Mistress' - Glynnis Osher ----------------------------------------- Fri, November 10th @ 7pm ----------------------------------------- Glynnis is a certified Ayurvedic Practitioner, teacher, healer, published author, and visionary entrepreneur in the arts of Ayurveda and aromatherapy. She is affectionately known as "The Spice Mistress" for her innovative creations in the arena of Ayurvedic aromatherapy and aroma nutrition. Experience the exhilaration of creating a sacred spice blend infused with essential oils and mantra for your divine nourishment. Mantra infuses the potent energy of aromatic spice seeds into the mind for mental harmony and liberation of the spirit. Ayurveda shows us how to incorporate sublime healing into our life through our food practices. By empowering your kitchen with sacred spices energized by seed mantras you open yourself up to receive physical, mental, emotional, and spiritual transformation and delight. At the end of this workshop you will take home a spice blend to use for the month. *Admission by donation (net proceeds to Ishtar Women's Transition Society, Langley) thespicelife.com
Sorry - that class has already taken place!
---
Online class reservations and pass tracking by Punchpass