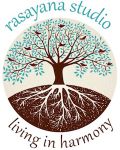 Rasayana Studio Class Reservation
For PRICING and to PURCHASE A PASS, Click on tab above 'Purchase A Pass Online'. 
*First visit to Rasayana Studio? Please arrive a few minutes early to complete any necessary paperwork and orient yourself. 
*PARKING - parking can be limited in Ft Langley - please allow extra time to park. We offer some underground parking or street parking or Marina Park on the river (access off Church St).
---
Return To Class Schedule
Chant Your Heart Open with Jai Gopal
Jai Gopal
7:00pm - October 1 (Sunday)
Class length: 1 hour 30 minutes

11 spots left
---
Open your Heart, Awareness and Voice through sacred chant. 
* * * * * * * * * * * * * * * *
Sun, October 1st 7 - 8:30pm 
* * * * * * * * * * * * * * * *
$20 Pre-registered / $25 at the door 
Nourish your soul through chant. Kirtan is a participatory - in unison or call and response - form of singing that is becoming increasingly popular throughout the world as we discover its uplifting and healing effects. 
Jai Gopal Kaur (Wendy DeMos) discovered Kundalini Yoga and the beautiful chants that come out of the Yogi Bhajan and Sikh tradition in the 1990s. After Jai Gopal experienced the profound sound current created by chanting Kundalini Yoga mantras, she expanded her singer/songwriter leanings and stepped into the open-hearted, healing path of devotional chants and sacred songs. 
Also featuring multi-instrumentalist, Victor Smith. 
* Bring a yoga mat to sit on if you have one
* Chairs available
Sorry - that class has already taken place!
---
Online class reservations and pass tracking by Punchpass