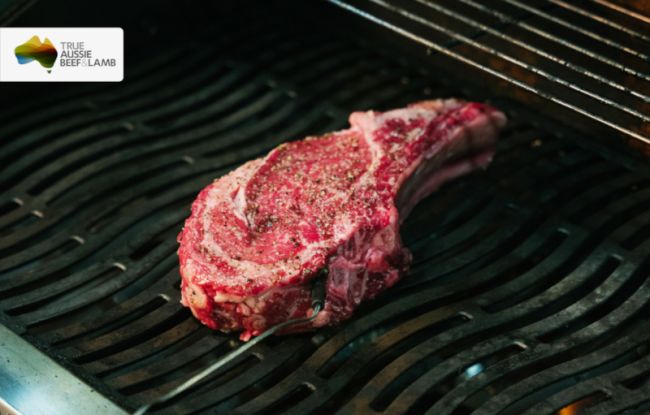 Originally created and run in conjunction with True Aussie and The Great Steak Escape – Family Edition in June 2022, we're bringing back this class due to popular demand.

Format: Interactive demo + sampling
Duration: 1.5 hours
Can all steaks be cooked the same way? We'll look at the steak's thickness as well as muscle, fat and connective issue content to determine how to cook a specific steak to get the optimum texture, flavour and doneness you prefer.
Conducted in an interactive demo format, the class will cover reverse searing a thick cut bone-in ribeye steak and grilling a striploin steak and a secondary cut such as flank to show what differentiates various cuts of steaks and what techniques to apply to get a golden crusted, pink and juicy steak each time.
In this demo, we'll be using a gas grill but the the techniques of cooking a steak will be similarly applicable when using a frying pan to sear and an oven to bring the steak up to temperature for reverse searing.
What you'll learn
Choosing the right cuts for steaks
Seasoning and prepping the steak for cooking
Grilling and reverse sear techniques
"Doneness" and how to get the results YOU want consistently
Resting and the effects of carryover cooking
How to slice a steak to maximise tenderness


What's provided
All ingredients used during the class
Mineral water/soft drinks
Alcoholic drinks are available for purchase
The class will be conducted in an interactive demo format and include sampling the steaks cooked.
Cost: $150 for 2 pax

Location: Fyregrill Academy, 201 Henderson Road #03-10
[email protected]
Singapore 159545
A minimum of 4 participants is required to proceed with this class. Should this class not reach minimum numbers, we will notify you no later than three days prior to the scheduled date. Guests will be welcome to reschedule for another date or obtain a refund if preferred.
If you would like to customise or book a private class, please email us at
[email protected]
*In line with current COVID-19 guidelines, we will only be able to accept bookings from participants who are fully vaccinated. Dining in will be subject to prevailing dining restrictions.