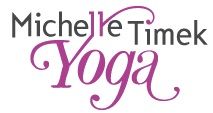 Michelle Timek Yoga Class Reservation
Click on class name for more information or to register. Walk-ins are also welcomed. Questions? Please contact us by phone or email for more info.
---
Return To Class Schedule
Partner Yoga Workshop
Michelle Timek
4:30pm - February 10 (Saturday)
Class length: 2 hours
Studio 909
Practice giving and receiving yoga in this unique ying/yang practice. Together, you'll get more in sync and attuned to each other, exchange nurturing touch, build trust and communication and help each other feel more open, relaxed and connected this loving yogic exchange. Chocolate & Champagne to follow. $70 fee covers two people for the class.
* Workshop includes wine, snacks and props * No experience necessary * Pre/postnatal friendly (non-alcoholic beverages available) Workshop and event purchases received more than 48 hours before the start time will be refunded minus a $10 handling fee. After 48 hours of start time, no refund will be issued.
---
Please fill out the form to register:
Class Cost: $70